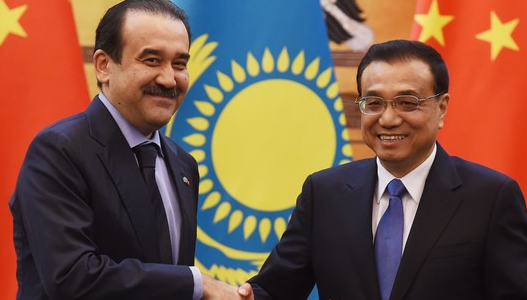 Kazakh Prime Minister Karim Massimov (left with Chinese Premier Li Keqiang)
visited Beijing, China in December
Strengthening political and commercial ties between Kazakhstan and China are finally materialising in the form of growing Chinese foreign direct investment, after Beijing-backed investors replaced traditional Russian and western partners as the central Asian country's top source of FDI in 2015.
Chinese companies announced 12 greenfield investment projects into Kazakhstan in 2015, for total capital investment of an estimated $1.2bn — more than the commitments by investors in any other country, according to figures from an FT data service. Germany and the US came next with five announced projects each.
The Chinese investments follow a long string of commercial agreements signed at the government level within the framework of China's "One Belt, One Road" initiative, which makes Kazakhstan a key transit corridor for Chinese goods en route to Europe and the Middle East.
Karim Massimov, the Kazakh prime minister, brought home a package of deals worth a total $4bn in sectors including oil and gas, petrochemicals, uranium mining and telecommunications after his last visit to Beijing in December.
A few months earlier, Astana gave its blessing to Chinese state oil firm Sinopec, closing a landmark $1.1bn acquisition of local assets owned by Russian oil company Lukoil, in a deal emblematic of the ongoing rebalancing of the Kazakh economy towards Beijing.
New Asian partners such as China, but also India and even Iran, are replacing Kazakhstan's traditional partners in the country's FDI matrix, shoring up foreign investment into greenfield projects as a whole.
Cross-border FDI into greenfield projects was worth $5.44bn in 2015, capping a three-year recovery from the lows touched in 2012. Investment in the oil & gas and commodity sectors retained the majority of total FDI inflows, with the government pushing to add value to its commodity-based industries.
Projects include a $1.2bn hot briquetted iron plant to be developed by China's MCC Baosteel in partnership with Eurasian Resources Group, a Kazakh mining group in which the state holds a 40 per cent stake, designed to ease the shipping of local iron ore output.
Kazakhstan's new partners have not been able to fill the void left by Russian and western investors, many of which have been spooked by a weakening domestic and regional economic cycle.
Beyond pure greenfield investment, figures for gross FDI, a broader measure that includes, among other things, mergers and acquisitions and reinvested earnings, shed more light on Kazakhstan's weakening investment appeal.
Gross inflows of FDI fell to $14.8bn in 2015, from $23.7bn a year earlier, reaching their lowest level of the past 10 years, according to the central bank. FDI into oil & gas and mining alone fell 58 per cent year-on-year to $3.5bn.
Kazakhstan's investment appeal remains closely intertwined with the fortunes of its oil & gas and mining sectors. Recovering oil prices, which recently bounced above $50 a barrel for the first time since November, combined with the resumption of production at flagship oil development Kashagan expected in the last quarter of the year, may allow Kazakhstan's commodity industries to regain some lost momentum.
Then it will be up to new and old partners to decide whether the oil-rich central Asian country is still worth a bet.

Financial Times
Please
contact us
in case of Copyright Infringement of the photo sourced from the internet, we will remove it within 24 hours.