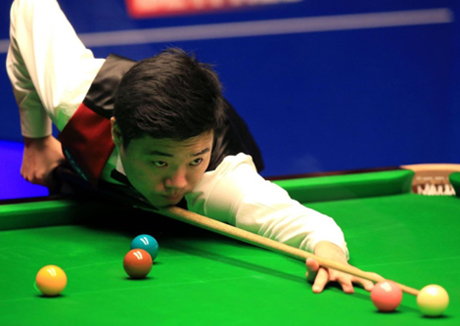 Ding Junhiu in action during the final at the Crucible in Sheffield
Sheffield's new deal to keep the World Snooker Championship for another decade is a 'unique opportunity' for the city to attract investment from China, council bosses have said.
The Crucible is set to remain the home of the tournament until at least 2027 and as part of the new contract, an international trade partnership will see Sheffield promoting itself to investors and future international students at events on the World Snooker Tour.
It comes as World Snooker bosses revealed this year's tournament attracted a global television audience of 300 million people - 210 million of them in China after Ding Junhui became the first Asian player to make it to the final.
Mick Crofts, director of business strategy at Sheffield Council, said: "We know that viewing figures in Asia, especially China are massive. This is a unique opportunity to raise the awareness and profile of Sheffield in the world's fastest growing economy.
"We are currently pursuing a number of potential investment enquiries from China, stemming from a strong local Chinese community, our two great universities and the profile that Sheffield has there.
"Securing World Snooker is a vital part of that investment strategy.
"In addition to that, our agreement with World Snooker, which will make its way through the formal democratic decision making process over the coming weeks, gives us a presence on the World Snooker tour, visiting some of the world's leading economic markets including China, Singapore, India and Germany, and that presents us with further opportunities to forge relationships with these major economic forces.
"We look forward to celebrating the next decade of the World Snooker Championship here in Sheffield, the true home of snooker, making the most of the benefits it brings, welcoming visitors and players from around the world and showcasing all that makes us a great city."

The Star
Please
contact us
in case of Copyright Infringement of the photo sourced from the internet, we will remove it within 24 hours.