Yihai Group Announces Investment in Europe's Largest Chinese Medicine and Health Care Project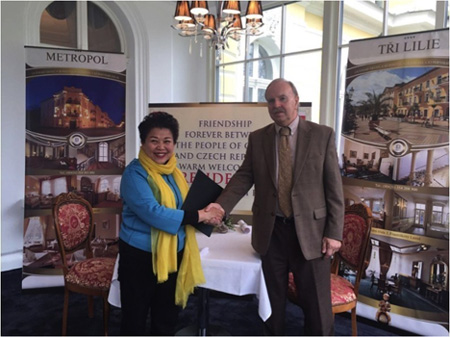 This investment is part of President Jinping's One Belt, One Road strategy that includes countries on the original Silk Road through Central Asia, West Asia, the Middle East and Europe. The goal is for China to improve trade and relations with these regions.
Located in Czech Františkovy Láznĕ (Emperor Francis II's Village), the Yihai Group's investment will feature the best of European health care and Chinese medicine including acupuncture and moxibustion, which burns mugwort, a small, spongy herb to facilitate healing; physical therapy; health care and Tai Ji. The village was chosen because of famous springs first discovered in 1793. Karl Marx, Peter the Great, Beethoven and Nikolai Gogol were among the illustrious visitors.
The ultimate goal is to create a European tourism and health care destination that will attract high-end customers from throughout the world. Ms. Wong has initially invested 113 million dollars in the project. Emperor Francis II's Village is already a tourist destination as part of the "Spring Golden Triangle" in Europe that also includes the Czech villages of Karlovy Vary and Mariánské.
The president of the Františkovy Láznĕ signed an agreement with Ms. Wong to develop Emperor Francis II Village project.
Under Linda Wong's leadership over the past 20 years Yihai Property has developed major real estate projects in China and has now moved into North America and is about to develop a property in Flushing, Queens, home to the largest Chinese community in the United States. The company has also built and runs seven private schools in China, as well as investing in high-return projects in biotech, IT and pharmaceutical industries.
Ms. Wong is also a philanthropist, who has been recognized globally for her work with children and educators, the elderly and the arts. Education is personally so important to her that she created a development model in her Chinese housing complexes that includes schools for the youngest members of a family and an elder college. Similarly, her investment in the important medicine and health care project reflects her views on the importance of an ecosystem that makes a social contribution in her developments.

PR Newswire (press release)
Please
contact us
in case of Copyright Infringement of the photo sourced from the internet, we will remove it within 24 hours.