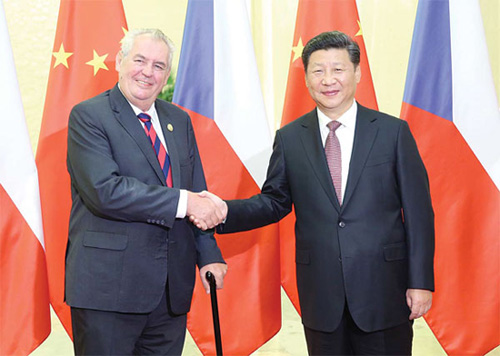 President Xi Jinping meets Czech President Milos Zeman in Beijing on Sept 4, 2015.
Two years ago, Xi Jinping paid his first visit to Europe as China's president. Apart from visiting four Western European countries and the European Union headquarters in Brussels, Xi also attended the Nuclear Security Summit in The Hague in the Netherlands.
And thanks to his state visit to the United Kingdom in October 2015, Beijing and London are set to herald a "golden decade" of strategic partnership. Xi also joined global leaders at the UN climate conference in Paris in December to help strike a deal to curb greenhouse gas emissions by 2030.
Now, Xi is paying a visit to the Czech Republic, his first to a Central or Eastern European country, from Monday to Wednesday before flying to Washington to attend the fourth Nuclear Security Summit.
Other Chinese leaders, too, have visited European Union countries several times over the past three years, with their European counterparts paying reciprocating visits to China. These top-level visits have been accompanied by encouraging and diversified business deals and people-to-people exchanges.
But despite the positive developments, European friends still ask me why Beijing is busy deepening ties with EU member states while scaling up cooperation with countries in Central and Eastern Europe.
My answer is, China is doing the right thing by engaging with EU member states to help consolidate European integration.
Xi made it clear during his European tour in 2014 that China is determined to forge partnerships with countries for "peace, growth, reform and civilization", which will help enhance the competitiveness of not only particular EU countries but also the EU as a whole.
Europe faces challenges on many fronts, from economic growth and terrorism to immigration and integration, And China's proactive and pragmatic EU policy can help the bloc overcome some of them, because Beijing is not only offering proposals and ideas but also following them up with concerted actions.
Although trade between China and the EU has been affected by the global economic slowdown, two-way investment is still going strong with Chinese investors targeting Europe as their first destination for mergers and acquisitions. Add to that the growing number of Chinese tourists visiting and spending handsomely in EU countries and students choosing European universities for higher education, and you have a promising picture.
Many EU member states have welcomed China's initiatives aimed at exploring win-win opportunities and shouldering more global responsibilities. For example, the UK is on way to becoming China's "best friend" in the West and the Czech Republic has decided to scale up its ties with China to the strategic level.
Also, many EU countries have supported China's Belt and Road Initiative for better connectivity of infrastructure, trade and flow of personnel, and up to 20 European countries have joined the Beijing-led Asian Infrastructure Investment Bank as founding members.
Looking back on these developments a couple of years later, we can term them historic and of great strategic importance.
However, we still need mega-ideas to make the world a truly peaceful and prosperous place. China has proposed and the Europeans have echoed many progressive ideas, though some Western powers have opposed them.
As a Czech politician said tome recently, China and its European counterparts are helping consolidate the "economic foundation" for Eurasian and African countries by cooperating in the Belt and Road Initiative, raised by China in 2013. This should be seen as the biggest achievement of the China-EU partnership over the past two years.
A real strategic partnership has just started unfolding.

Chinadaily USA
Please
contact us
in case of Copyright Infringement of the photo sourced from the internet, we will remove it within 24 hours.