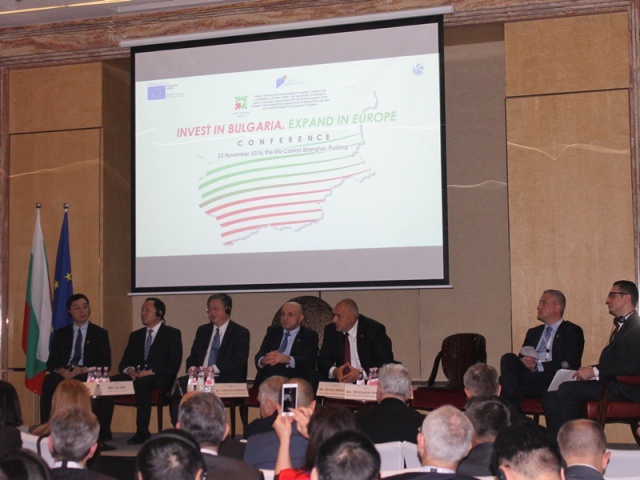 Bulgaria's Economy Minister Bozhidar Lukarski (2-R), Prime Minister Boyko Borisov (3-R) and
Deputy PM in charge of EU funds absorption Tomislav Donchev (4-R) attend 'Invest in Bulgaria.
Expand in Europe' investment forum in Shanghai, China, 23 November

Economic cooperation with China is on Bulgaria's priority list, taking into account the huge potential and brisk development of the world's second largest economy, Bulgaria's Economy Minister Bozhidar Lukarski has said.

Lukarski spoke on Monday at the opening of 'Invest in Bulgaria. Expand in Europe' investment forum in Shanghai, organized by InvestBulgaria Agency and attended by over 100 Chinese companies, the Bulgarian government press service said.

Lukarski said that that the potential of Bulgaria as part of the European Union market and the achievements of the Chinese economycreate favourable conditions for intensifying bilateral cooperation.

Bulgaria's location at the crossroads of major trade routes linking Asia, the Middle East and the Mediterranean with Europe is making the EU member state an excellent platform for Chinese exports to a market of 500 million people.

Lukarski also listed the tax advantages which Bulgaria is offering to investors, including 10% corporate and personal income tax, zero tax on profit reincested in municipalities having unemployment rate 25%above the national average, annual amortization costs of 50% for new computers, software, machines and equipment, as well as two-year VAT exemption of imports of equipment for investment projects worth more than EUR 2.5 M which create at least 20 jobs.

He also listed other investment incentives offered by Bulgaria such as accelerated administrative services, acquisition of state property under preferential terms, financing the construction of the necessary infrastructure, financial support for staff training as well as government incentives for priority investment projects.

"We invite Chinese companies interested in the markets of the European Union to set up their offices, logistics and production facilities and development centers in the country. We rely on the Chinese authorities to encourage Chinese companies to invest in Bulgaria, " Lukarski said.

Lukarski praised the business activities in Bulgaria of Chinese investors such as Great Wall Motor Company, Tianjin State Farms Agribusiness Group Company, Huawei and ZTE and expressed confidence that their example will encourage other Chinese companies to invest in Bulgaria.

Novinite.com
Please
contact us
in case of Copyright Infringement of the photo sourced from the internet, we will remove it within 24 hours.