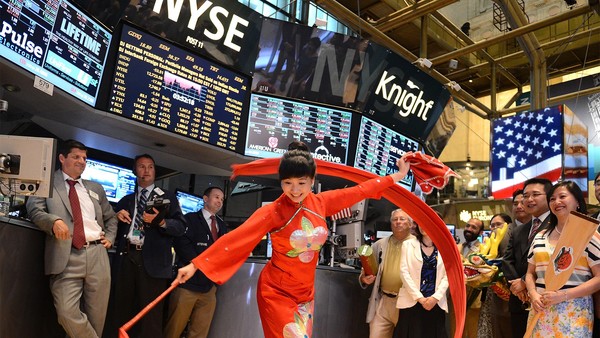 China is finalising plans that would allow individuals to invest directly in overseas financial assets, further loosening capital controls as it seeks official reserve currency status for the renminbi.
The renminbi, once so tightly controlled that overseas visitors were restricted to parallel bank notes, is today freely convertible for trade purposes but strictly curbed on cross-border investment. That too is changing via a series of programmes to encourage freer capital flows, even as recent data indicate the country is grappling with record capital outflows.
Easing controls on outbound financial investment will help the renminbi meet International Monetary Fund requirements that any official reserve currency be "freely usable", analysts say. The IMF will decide this year whether to endorse the renminbi.
The latest move would enable Chinese individuals to buy overseas stocks, bonds and real estate directly rather than pick from a handful of government-approved foreign mutual funds as they are now obliged to do, state media reported this week.
Known as the Qualified Domestic Individual Investor programme, or QDII2, it builds on an earlier 2007 incarnation that allows approved Chinese asset managers to sell mutual funds, comprised of foreign stocks and bonds, to domestic investors. Quotas granted under QDII totalled $90bn to the end of April.
Apart from QDII, current rules allow Chinese residents to convert $50,000 worth of renminbi to foreign currency annually. In reality, investors have also exploited various loopholes to move money offshore, including disguising outbound financial flows as payments for imported goods.
QDII2 will start as a pilot programme in Shanghai, Tianjin, Chongqing, Wuhan, Shenzhen and Wenzhou, the official Securities Times reported this week. Individuals with net financial assets of at least Rmb1m ($161,000) will qualify for the programme, with total outbound investment limited to 50 per cent of the individual's net assets.
Liang Hong, economist at China International Capital Corp, estimates that if the programme were expanded nationwide, it would theoretically free up about Rmb41tn in domestic wealth for overseas investment. But analysts caution that Chinese authorities, wary of unleashing uncontrolled outflows, are unlikely to scale the programme up that quickly.
QDII2 will permit investment in stocks, bonds, mutual funds, insurance, financial derivatives and real estate. It will also allow direct investment, including mergers and acquisitions, the paper reported.
"Given that the current account has already been freely convertible for over 10 years, capital account opening is an inevitable trend," Ms Liang wrote on Friday.
"In the long term, economic development and institution-building is the fundamental strength that can prevent capital flight when fund flows are free."
QDII2 follows a string of moves further prising open the capital account. In November China launched the Shanghai-Hong Kong stock connect, which allows mainland investors to directly purchase Hong Kong shares up to an aggregate quota of Rmb300bn.
It followed up last week with a mutual fund recognition scheme that will permit Hong Kong asset managers to sell overseas funds directly to mainland investors, also subject to a Rmb300bn quota.
The State Council, China's cabinet, earlier this month pledged to "advance renminbi capital account convertibility, expand cross-border usage of the renminbi, and choose the moment to push forward a pilot programme for individual outbound investment".
Shanghai's top Communist party official told the Financial Times late last year that China would push forward a pilot programme for individual outbound investment in the Shanghai free-trade zone in 2015.

Financial Times
Please
contact us
in case of Copyright Infringement of the photo sourced from the internet, we will remove it within 24 hours.