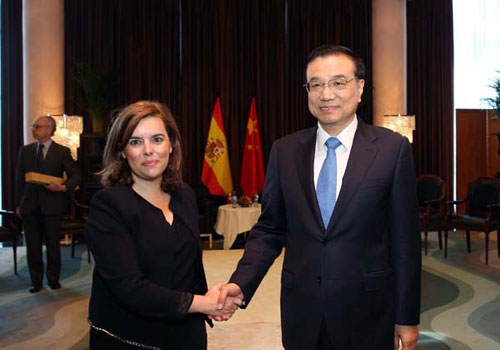 On the afternoon of May 27 local time, Premier Li Keqiang and his wife Mme. Cheng Hong had a technical stop in Mallorca,
Spain
on their way back to China by special plane after concluding their visits to the four Latin American countries. Deputy Prime Minister Soraya Saenz de Santamaria of Spain took a special trip to greet them. Senior officials of Spanish local governments and H.E. Lv Fan, Chinese Ambassador to Spain, also welcomed them at the airport.
Following that, Li Keqiang held a meeting with Soraya Saenz de Santamaria at the hotel where he stayed.
Li Keqiang spoke positively of the development of China-Spain relations in recent years, and said that China attaches great importance to its relations with Spain, and is willing to, together with Spain, continuously deepen mutual political trust, promote balanced trade growth, expand two-way investment and exchanges, and boost people-to-people and cultural exchanges in fields such as education, culture, and tourism in the next ten years of comprehensive strategic partnership. It is hoped that the Spanish government will provide more convenience to Chinese enterprises operating in Spain and Chinese citizens traveling, studying and living in the country.
Li Keqiang introduced his visits to the four Latin American countries, and pointed out that with complementary advantages, China and Spain enjoy huge potential to jointly develop the third-party market, which can not only boost economic growth and create more job opportunities in the two countries, but also help elevate infrastructure construction level in relevant developing countries, thus pushing the sustained development of global economy together. China and Spain could conduct a feasibility study on enhancing mutual investment and cooperating to develop the third-party market through bilateral mixed committee on trade and economic cooperation and strive for a framework agreement, so as to provide guidance for the third-party cooperation between the two countries in economy, culture and other areas and better realize win-win and multi-win results.
Soraya Saenz de Santamaria, on behalf of the Spanish government and Prime Minister Mariano Rajoy, warmly welcomed Premier Li Keqiang for his stopover in Spain. She said that bilateral exchanges and cooperation in all sectors are developing smoothly. Spain will not forget the precious support and help offered by China in the most difficult times of its economy, and stands ready to further expand bilateral cooperation in such fields as infrastructure construction, energy and chemical engineering. The Spanish government agrees to China's proposals on jointly developing the third-party market, pushing balanced trade growth and expanding personnel exchanges, and will closely cooperate with China to create favorable conditions for new progress in bilateral comprehensive strategic partnership.
Both sides agreed to intensify communication and coordination under the framework of the UN to together advance the post-2015 development agenda.
Li Keqiang and his wife Mme. Cheng Hong had a technical stop in Mallorca on their way back to China after the successful officialvisit to Chile. Upon leaving Santiago, senior officials of the Chilean government and H.E Li Baorong, Chinese Ambassador to Chile, saw them off at the airport.
It was 13 hours' flight from Santiago to Mallorca and will take another 11 hours' flight from Mallorca to Beijing.
Please
contact us
in case of Copyright Infringement of the photo sourced from the internet, we will remove it within 24 hours.