Brief:
The land-sea passage, upon its completion, will open up a new convenient channel for the import and export of products between China and Europe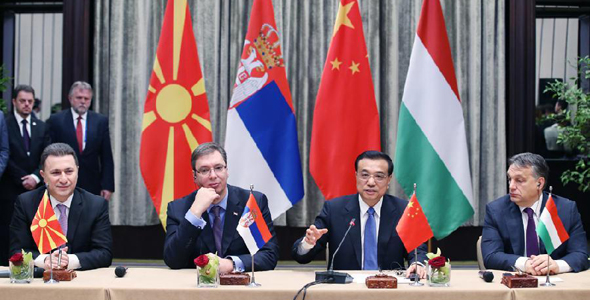 Chinese Premier Li Keqiang (2nd R) meets with Serbian Prime Minister Aleksandar Vucic (2nd L), Hungarian Prime Minister Viktor Orban (R) and Macedonian Prime Minister Nikola Gruevski in Belgrade, Serbia, Dec. 17,2014
China and three Central and Eastern European (CEE) countries on Wednesday agreed to build a land-sea express passage linking a Greek port and the landlocked Hungary to speed up transportation between China and Europe.

The consensus was reached when Chinese Premier Li Keqiang met with his counterparts from Serbia, Hungary and Macedonia one day after the leaders' meeting between China and 16 CEE countries in Belgrade.

Li said the land-sea express route will be "an extension and upgraded version" of the planned Hungary-Serbia railway running through Belgrade and Budapest to connect China.

It will link the Greek sea port of Piraeus in the south and Budapest in the north, stringing the Macedonian capital of Skopje and Belgrade, he said.

Li and his Serbian and Hungarian counterparts signed a memorandum of understanding on joint construction of the Hungary-Serbia railway. He also inked agreements on customs clearance facilitation with three CEE countries' leaders.

Li added that the Greek side has also expressed its willingness to sign the customs clearance treaty with China at an early date.

The land-sea passage, upon its completion, will open up a new convenient channel for the import and export of products between China and Europe, said the premier, adding that more express lanes between his country and the European Union (EU), China's largest trade partner, should be built to boost the cooperation between them.

Xinhuanet
Please
contact us
in case of Copyright Infringement of the photo sourced from the internet, we will remove it within 24 hours.