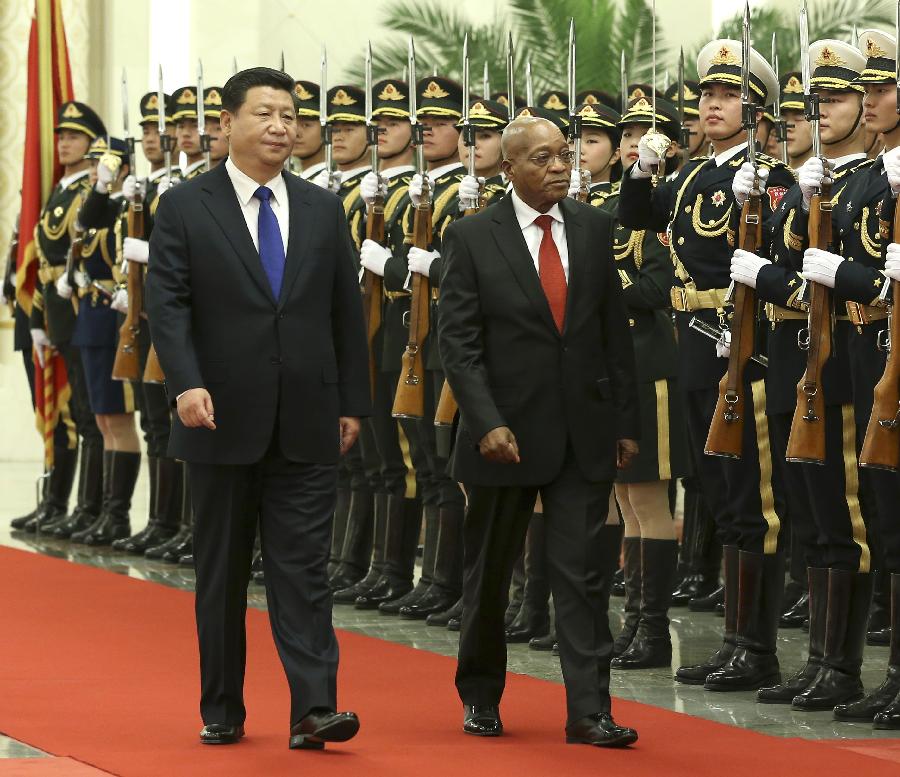 Chinese President Xi Jinping (L) holds a welcoming ceremony for visiting South African President Jacob Zuma before their talks in Beijing, capital of China, Dec. 4, 2014.

Chinese President Xi Jinping held talks with his South African counterpart, Jacob Zuma, on Thursday, pledging to boost their bilateral comprehensive strategic partnership.

"Both China and South Africa are large developing countries and emerging markets, and we are good friends and good brothers who understand and support each other," Xi said, adding that the China-South Africa relationship is characterized by equality and mutual trust, comprehensive cooperation, win-win reciprocity and common development.

Recalling his visit to South Africa last year, Xi said he and Zuma reached an important consensus on upgrading the comprehensive strategic partnership between the two countries.

"(We) should plan the China-South Africa relationship in an all-round way, deepen cooperation, and set a good example for friendly cooperation between China and African countries," said the Chinese president.

Xi said the two countries should also be powers that enhance unity and cooperation among developing countries, improve global governance and promote democracy in international relations.

Voicing his gratitude for China's support to South Africa, Zuma said South Africa understands and respects China's core interests and major concerns, and he hopes to boost the bilateral strategic partnership and speed up his country's development.

Zuma said he believes his China visit will lead the bilateral relationship toward a new height.

Zuma arrived in Beijing on Wednesday for a state visit to China at Xi's invitation. During the visit, the two sides signed a string of deals, including one on planning cooperation between the two countries in the coming five to ten years.

Xi said the two sides should maintain the momentum of high-level interactions and increase exchanges on legislation, justice, defense and state governance as well as exchanges between localities.

Xi said China upholds a correct view on justice and will give full consideration to South Africa's needs for development in cooperation between the two countries.

Xi proposed the two countries boost cooperation in trade, finance, agriculture, energy and mining, infrastructure and maritime economy to complement each other and realize growth of two-way trade in a balanced way.

The two sides should also expand people-to-people exchanges and strengthen coordination in major international affairs, said the Chinese president.

Echoing Xi's proposals on cooperation, Zuma said South Africa hopes to learn from China's experience and welcomes Chinese investments, including those in South Africa's infrastructure, special economic zones, industrial parks and maritime economy.

South Africa stands ready to boost cooperation with China in the BRICS (Brazil, Russia, India, China and South Africa) mechanism and looks forward to an early launch of the Africa regional center of the BRICS Development Bank to make the international economic and financial order more fair and rational, said the South African leader.

During the talks, Xi also said China will work together with South Africa to promote peace, stability and development in Africa.

China is willing to support South Africa's push to establish an African standby force and will work with the international community, including South Africa, to help west African countries in the fight against the Ebola epidemic, Xi said.

The Chinese side will also support South Africa's efforts to host the Sixth Ministerial Conference of the Forum on China-Africa Cooperation (FOCAC), Xi added.
Please
contact us
in case of Copyright Infringement of the photo sourced from the internet, we will remove it within 24 hours.