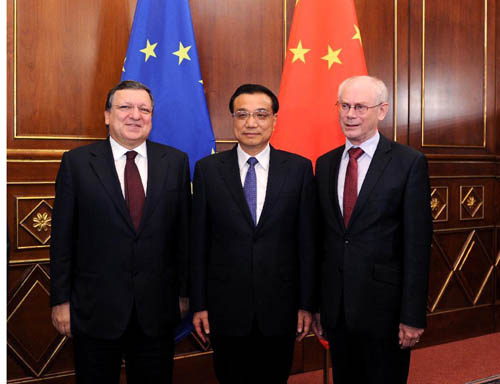 Chinese Premier Li Keqiang (R) meets with President of the European Council Herman Van Rompuy (C) and President of the European Commission Jose Manuel Barroso in Milan, Italy, Oct. 15, 2014
Leaders of China and the European Union (EU) agreed Wednesday to put their investment treaty negotiation on a faster track so as to further cement bilateral economic ties.

The pledge was made when visiting Chinese Premier Li Keqiang met here with President of the European Council Herman Van Rompuy and European Commission President Jose Manuel Barroso.

Li is in Italy for an official visit, and will attend the 10th Asia-Europe Meeting summit to be held in the Italian city of Milan on Thursday and Friday.

China, Li noted, attaches great importance to its relations with the EU, which is China's largest trade partner. "We are each other's opportunities for development," he added.

The two sides should implement the China-EU partnerships for peace, growth, reform and civilization, Li said.

They should also strengthen their all-round cooperation in such areas as economic and trade, energy, urbanization, interconnectivity, finance, science and technology, and people-to-people exchanges, he said.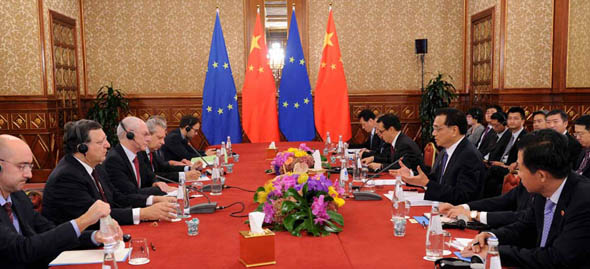 The Chinese leader also expressed his hope that the two sides can respect each other, treat each other as equals, and address frictions and differences in a proper way through dialogues and negotiations, so as to ensure the healthy and stable development of bilateral relations.

"The prosperity of Europe benefits the development of the world," Li stressed.

The European integration process is accelerating and the euro, as a major international currency, stays stable, which will play a positive role in promoting world multi-polarization and the diversification of international reserve currencies, he said.

Meanwhile, Li said China appreciates the contribution the two European leaders have made during their mandates.

Taking the 40th anniversary of their diplomatic ties next year as an opportunity, China is willing to work with the EU to explore new prospects in the development of bilateral ties, Li pledged.

The premier also urged China and the EU to enhance communication and coordination in international and regional issues to jointly promote global peace and development.

On their parts, Van Rompuy and Barroso expressed appreciation toward China's faith in and support for Europe and the euro, saying the EU will continue to uphold unswervingly a friendly policy toward China.

They pledged that the bloc will maintain close dialogues and cooperation with China to implement the EU-China 2020 Strategic Agenda for Cooperation, which was adopted by the two sides last year at the 16th China-EU Summit held in Beijing, properly handle trade frictions, and sign with China the investment treaty at an early date to create a better environment for Chinese investors.

The EU stands ready to join hands with China to promote cooperation between European and Asian countries to concertedly address global challenges, the two EU leaders said.

They also voiced the hope that the 17th EU-China Summit can be held soon.

Italy is the last stop of Li's three-nation tour, which has taken him to Germany and Russia.
Please
contact us
in case of Copyright Infringement of the photo sourced from the internet, we will remove it within 24 hours.