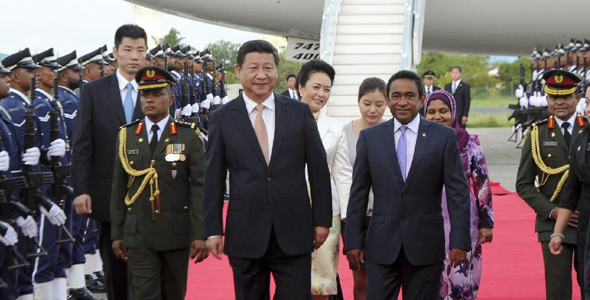 Chinese president arrives in Maldives for state visit
President Xi Jinping envisioned China's expanded teamwork with the Maldives on connectivity, climate change and tourism as he arrived at the first stop of his South Asia trip on Sunday.
Xi compared the country on the Indian Ocean to "a string of pearls that God left in the human world".
China "will continue its support and help" with the social and economic development of the Maldives, Xi said in a written speech upon his arrival late on Sunday after finishing his visit to Tajikistan. He will visit Sri Lanka and India later.
To boost cooperation in connectivity, Xi said China "welcomes the Maldives becoming actively involved in the 21st century Maritime Silk Road initiative", a transcontinental connectivity blueprint Xi proposed last year when visiting Indonesia.
Ye Hailin, an expert at the Chinese Academy of Social Sciences, said Xi's visit to the Maldives was significant because of the expansion of the bilateral maritime cooperative agenda.
The Maldives serves as "a key link of the Maritime Silk Road", and China has plans to utilize its ports, Ye noted.
Zhou Gang, former Chinese ambassador to India, said the construction of the Maritime Silk Road involving China and the South Asian nations will "facilitate not only connectivity, but also infrastructure construction and energy routes".
During the visit, Xi will hold talks with President Abdulla Yameen and meet with Speaker of the Parliament Abdulla Maseeh Mohamed. They will issue a communique and sign a series of cooperation agreements.
Xi said he looks forward to the talks with his counterpart, which are expected to "map out the blueprint" of the ties.
Before his arrival, Xi drew voices of welcome and applause online from the Maldivian public after he published a signed article in the Maldives' leading media portals, including a major news website.
In the article, Xi endorsed mutual respect and said the countries have been "setting a good example of countries different in size treating each other as equals".
A high frequency of top-level interactions has been highlighted as the vice-president and president of the Maldives visited China in June and August.
On the economic front, the Chinese leader mentioned the rapid development of two-way trade and tourism. China has become the second-largest trade partner and the second-largest source of imports for the Maldives.
Xi said China-Maldives relations - since 1972 - "are now on a new upward trajectory and face major opportunities".
"The river is wide at full tide, a strong wind sends the sail surging forward," Xi quoted an old Chinese poem as saying.
China and the Maldives "have good coordination and cooperation on a range of global issues including climate change", assistant Foreign Minister Liu Jianchao said prior to the visit.

China Daily
Please
contact us
in case of Copyright Infringement of the photo sourced from the internet, we will remove it within 24 hours.