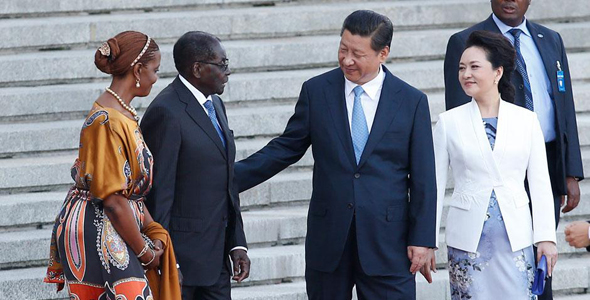 Zimbabwean President Robert Mugabe was welcomed by his Chinese counterpart Xi Jinping on Monday as Africa's longest-ruling leader seeks more Chinese investment in his nation's stagnant economy.
Xi and his wife Peng Liyuan greeted Mugabe and his wife Grace — dressed in a colorful African-style outfit — with full military honors at the imposing Great Hall of the People fronting Tiananmen Square in the heart of Beijing.
A military band played the two countries' national anthems as a 21-gun salute was fired and the two presidents inspected a military honor guard, with Mugabe, 90, walking slowly but with no sign of trouble.
The former guerrilla fighter who led Zimbabwe to independence is on a five-day state visit, his 13th trip to China.
Zimbabwe's state-owned Sunday Mail newspaper at the weekend quoted his spokesman George Charamba saying he was "largely looking for investment of an infrastructure nature," with the focus on energy and transport.
Zimbabwe's relations with China and the Chinese Communist Party date back to the liberation struggle of the 1970s, when Beijing provided arms and trained some of the top guerrilla leaders.
Mugabe has ruled Zimbabwe since 1980, his more than three decades in power starting amid optimism but eventually characterized by corruption and mismanagement, leading to hyperinflation and enduring economic crisis, along with brutal crackdowns against political opposition.
There was a partial recovery during a power-sharing agreement with the Movement for Democratic Change, which ended last year when Mugabe's Zanu-PF party won elections the opposition says were rigged.
Independent economists estimate that unemployment in what was once known as the breadbasket of Africa stands at 80 percent.
'Look east'
The EU and U.S. imposed sanctions against Mugabe and his allies as he turned into a Western pariah, while he adopted a "look east" policy, forging new ties and buttressing existing ones with East Asian countries including China.
Chinese investment in Zimbabwe in non-financial sectors exceeded US$602 million last year, more than any other African country, the official Xinhua news agency reported citing Chinese government figures.
Chinese companies are active in mining, construction, telecommunication and agriculture.
At least two China-linked firms, Anjin Investments and Jinan Mining, have operated concessions at Zimbabwe's hugely valuable Marange diamond fields.
Zimbabwe's military, police and intelligence services are believed to have links to the mines, where overseas campaign groups have raised concerns about rights abuses.
Chinese firms also have interests in platinum and chrome mining.
Mugabe drove Zimbabwe's controversial seizure of white-owned land, and the country has an indigenization law requiring foreign firms to hand over 51 percent of their shares to black Zimbabweans. It is not clear how Chinese investors will be affected.
Besides meeting with Xi, Mugabe's five-day state visit includes talks Tuesday with Premier Li Keqiang.
As well as his wife, Mugabe is being accompanied by ministers for agriculture, tourism, industry and commerce, and finance and economic development, Xinhua reported.
Mugabe is currently chairman of the Southern African Development Community, taking over from Malawi's Peter Mutharika after almost a decade of being excluded from positions of power in the 15-member bloc.
He is also in line to lead the 54-nation African Union from next year.
But he was the only leader from southern Africa not invited to attend a major U.S.-African summit in Washington earlier this month, which included some 45 of the continent's heads of state.

The China Post
Please
contact us
in case of Copyright Infringement of the photo sourced from the internet, we will remove it within 24 hours.