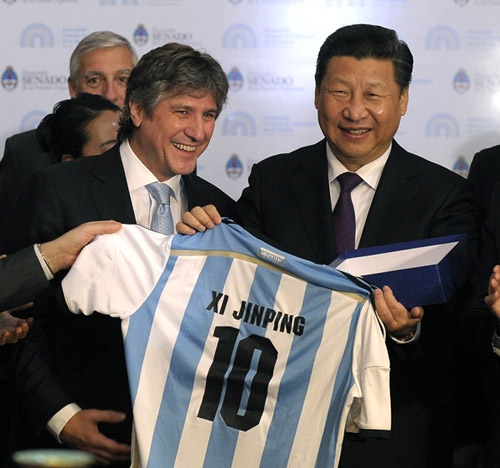 China's President Xi Jinping (R) receives an Argentine soccer jersey with his name on it from Argentina's Vice President Amado Boudou as Xi visits the Congress in Buenos Aires July 19, 2014. [Photo/Agencies]
Enhanced cooperation to focus on Latin American nation's infrastructure

China and Argentina energized their partnership on Friday by inking long-awaited financing agreements for the construction of two hydroelectric dams and a railway project in Argentina worth around $6.8 billion to help improve Argentina's bottlenecked infrastructure sector.

The agreements are part of the series of economic and technology cooperation accords in the agricultural, energy and nuclear power sectors that exceed $10 billion, which were signed during President Xi Jinping's first-ever state visit to the South American country, from Friday to Sunday.

Argentina's President Cristina Fernandez de Kirchner welcomed Xi with a ceremony that included horse guards and a military band on Friday afternoon. The two leaders also agreed to elevate bilateral ties to the level of a comprehensive strategic partnership.

It is the first visit by a Chinese president to Argentina in 10 years. China now stands as Argentina's No 2 trading partner and Argentina's major agricultural commodity importer.

The two presidents watched video screens showing the launch ceremony of two hydroelectric dams that will be built by China Gezhouba Group Co Ltd, the firm that built the Three Gorges Dam, in collaboration with a local firm.

Part of the hydroelectric projects will be financed by the China Development Bank and the Industrial and Commercial Bank of China.

The hydroelectric projects in the sparsely populated Patagonia region, which includes Santa Cruz province, are expected to generate a combined capacity of 1,740 megawatts. It has been reported that their power generation will account for about 10 percent of Argentina's energy demand.

The Argentine government said last year that the dams will help curb Argentina's need to import diesel and liquefied natural gas, and save about $1.1 billion a year. More accessible energy supplies will attract greater investment, officials in Santa Cruz said.

The agreements also include a plan to revive an $11-billion currency swap with China. It would enable China to trade with Argentina in renminbi, taking pressure off shortages of dollars in Buenos Aires as it remains unable to borrow abroad until the holdouts issue is resolved.

In a joint news conference, Xi said the accords signed on Friday will "greatly enhance cooperation between the two countries".

Since infrastructure is an important sector in bilateral cooperation, China supports more Chinese infrastructure companies taking part in Argentine projects, said Xi.

Fernandez said the dam and railway projects can help save transportation and logistics costs, and promote Argentina's economic development.

"I think China and Argentina have embarked on a new stage of strategic relationship," she said.

Observers said the infrastructure projects will strengthen China's status as Argentina's top trade partner, especially as the main destination for its abundant grain exports.

Those deals also open the door to more Chinese construction companies and investment in the resource-rich country that has made boosting its limited infrastructure a priority, observers said.

Chinese Academy of Social Sciences Latin American studies researcher Zhang Yong said Argentina seeks greater cooperation with China, especially in infrastructure, which has been a bottleneck for its economy.

The hydroelectric projects will allow Argentina to realize the goal of developing sustainable energy while China will provide attractive financial and labor support, said Zhang.

Former Chinese ambassador to Argentina Xu Yicong said China's know-how could boost exports to Argentina, help the Latin American country improve living standards and vitalize Argentina's southern half.

China can share its experiences in major projects with Argentina, which is good at building hydroelectric equipment, Xu added.

Hydroelectric dams currently account for about 30 percent of the power generated in Argentina, and plans have been drawn up for 10 more dams.

Highlighting the complementary nature of the two economies, China's ambassador to Argentina, Yin Hengmin, called for increased trade in value-added products and cooperation in the design and production of high-tech products.

Bilateral trade reached $14.84 billion in 2013, up 2.8 percent from a year earlier.

China is Argentina's second-largest trade partner and the leading destination of its agro-product exports. It is also Argentina's third-largest source of investment, while Argentina is China's fifth-largest trade partner in Latin America and the third-largest source of its agro-product imports.

China Daily
Please
contact us
in case of Copyright Infringement of the photo sourced from the internet, we will remove it within 24 hours.