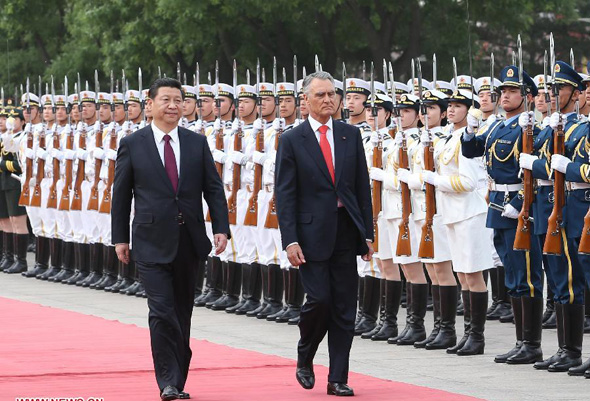 Chinese President Xi Jinping (L front) holds a welcoming ceremony for Portuguese President Anibal Cavaco Silva before their talks in Beijing, capital of China, May 15, 2014. (Xinhua/Liu Weibing)
Chinese President Xi Jinping on Thursday held talks with his Portuguese counterpart Anibal Cavaco Silva on further promoting the bilateral comprehensive strategic partnership.
This year marks the 35th anniversary of the establishment of bilateral ties between China and
Portugal
. Recalling the 35-year history, Xi said the two nations have treated each other equally with mutual respect and trust, and handled bilateral ties from a strategic height and a long-term perspective.
The two sides have solved the historical issue of Macao and set a good example for the world, said Xi.
Calling the current China-Portugal ties "the best" in history, Xi said the two sides should continue to maintain the momentum of high-level visits, expand cooperation between governments, parliaments, political parties and boost local and people-to-people exchanges.
China congratulates Portugal on gradually stepping out of its debt crisis, said Xi, adding that his country will continue to support Portugal by expanding bilateral trade and mutual investment, promoting cooperation in areas such as energy, electricity, finance, environmental protection and new energy.
He also called on both sides to conduct cultural exchanges and enhance coordination in international affairs.
China and Portugal could explore possibilities of a trilateral cooperation with Africa or either Latin-America via a mechanism like the China-Portuguese speaking countries forum, to contribute to the peace, stability and sustainable development of these regions, he said.
China has firmly supported European integration, said Xi, recalling his visit to four European countries and the EU headquarters in March, during which he and European leaders reached consensus on building a partnership of peace, growth, reform and civilization.
Hailing Portugal as a good partner in the EU, Xi expressed hope that Portugal would continue to play an active and constructive role in forging ahead the China-EU comprehensive strategic partnership.
For his part, Cavaco Silva said Portugal-China relations have developed well since the handover of the Portuguese enclave of Macao in 1999, which proves the political wisdom of the two countries.
Portugal thought highly of China's development and would like to strengthen political exchanges with the country, expand cooperation on economic and trade, low-carbon and green technology, finance, tourism, education and science, and absorb more Chinese investment, said Cavaco Silva.
He said Portugal supports China's initiation of enhancing the China-Portuguese speaking countries forum and is willing to participate in trilateral cooperation.
He also briefed Xi on reforms taken in Portugal and the eurozone, and appreciated China's support for Portugal and the EU.
The two presidents witnessed the signing of a series of deals after the talks and met the press in the Great Hall of the People.
Cavaco Silva is here for a week-long state visit, which started on Monday, at the invitation of Xi. Prior to his arrival in Beijing, he visited eastern China's economic hub of Shanghai. His trip will also take him to Macao.

Xinhua
Please
contact us
in case of Copyright Infringement of the photo sourced from the internet, we will remove it within 24 hours.