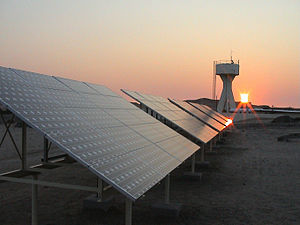 A part of the "Demonstration Project at Gobabeb
of Renewable Energy and Energy Efficiency"
(DeGREEE): The solar panels
According to a recently released United Nations report, global investment in renewable energy reached a record $257 billion in 2011, a 17 percent increase from the amount invested in 2010. Globally, renewable energy covers approximately 16.7 percent of energy consumption. Of this share, modern technologies such as solar and wind accounted for just 8.2 percent, even less than the 8.5 percent contributed by biomass. By comparison, more than 80 percent of electricity consumed worldwide still comes from fossil fuels.

China was responsible for almost one-fifth of total global investment, spending $52 billion on renewable energy last year. The United States was close behind with investments of $51 billion, as developers sought to benefit from government incentive programs before they expired. Germany, Italy and India rounded out the list of the top five countries.

According to China's 12th Five-Year Plan for Economic and Social Development (2011-2015), the country will spend $473.1 billion on clean energy investments over the next five years. China's goal is to have 20 percent of its total energy demand sourced from renewable energy by 2020.

In 2011, solar led the way as far as global investment in renewable energy, with investment surging to $147 billion, a year-on-year increase of 52 percent, due to strong demand for rooftop photovoltaic installations in Germany, Italy, China and
Britain
. Large-scale solar thermal installations in Spain and the United States also contributed to growth during the year. Wind power investment slipped 12 percent to $84 billion as a result of uncertainty about energy policy in Europe and fewer new installations in China, according to the report.
Despite the substantial investments in solar energy, the industry is in turmoil. A number of large American manufacturers such as Solyndra, Evergreen Solar, SpectraWatt, Solar Millennium and Solon fell victim to price pressure from Chinese rivals that helped to halve the cost of photovoltaic modules in 2011.

Even the survivors are not doing well. Shares of First Solar, Inc. (NASDAQ:FSLR), are selling at their lowest level in five years. The company, which is the leading solar company in the United States, lost $39.5 million last year. In the first quarter of this year, First Solar reported a loss of $449 million after non-recurring expenses of $405 million. The company is due to report second quarter results on August 1.

Not unexpectedly, the industry's poor fundamentals are provoking trade battles. In May, the U.S. Commerce Department found several Chinese solar-panel companies guilty of dumping and imposed 31 percent tariffs on their products. The action came as a result of a complaint filed by the American subsidiary of Germany's SolarWorld AG (SWV.DE) and a half-dozen other solar-energy companies that said that the Chinese manufacturers are selling solar panels at below-market prices. The Chinese companies affected are Suntech Power Holdings Co. Ltd. (NYSE: STP) and Trina Solar Limited (NYSE: TSL). SolarWorld has now asked the European Union to investigate claims that Chinese rivals have been selling their products at below market value in Europe as well.

While China pricing has been devastating for American and European solar manufacturers, it has been no less devastating for their Chinese rivals. Suntech, Trina, Yingli Green Energy Holding Co. Ltd. (NYSE: YGE) and Canadian Solar Inc. (NASDAQ:CSIQ), four of China's largest solar manufacturers, lost a combined $1.7 billion in 2011, and the shares of all four companies are selling at five year lows.

The economics for the solar industry, both globally and in China, have never been worse, and there are no bright spots on the horizon. Clearly, solar investments in the United States and Europe will take a hit in 2012. However, the underlying unprofitability of the industry is in sharp conflict with China's long-term goal to derive 20 percent of its energy needs from renewable energy sources as well. How can the Chinese companies continue to operate in the face of such losses? Will China continue to support the industry's development? These are some of the questions that the country's new leaders will need to address as they take the helm this fall.

Managing The Dragon
Please
contact us
in case of Copyright Infringement of the photo sourced from the internet, we will remove it within 24 hours.