Brief:
Chinese Premier Wen Jiabao arrived in Argentina, the third stop of his multination visit to South America, which is set to boost economic ties with the continent.
Chinese Premier Wen Jiabao arrived in Argentina on an official visit aimed at boosting trade with one of South America's top agricultural producers.
Wen, slated to meet Sunday with Argentine President Cristina Kirchner, has been traveling across South America since a G-20 summit in
Mexico
last week, have agreed to increase trade, which last year reached $14.8 billion, $8 billion in China's favor.
China is Argentina's second largest trade partner, mainly dealing in agricultural products. Argentina is the world's number one exporter of flour and soy oil, number three soy bean exporter, and number two corn exporter, said Rogelio Ponton, adviser to the Rosario Board of Trade.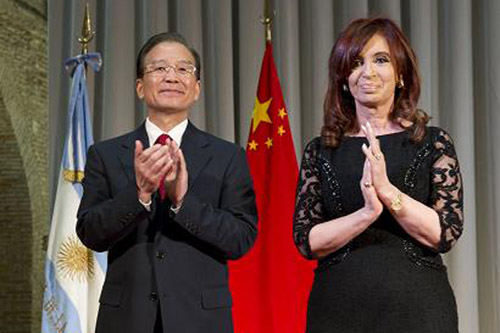 Buenos Aires expects to highlight plans to modernize the Belgrano Cargas railway, said Planning Minister Julio de Vido about Wen's visit in comments aired on state television.
Argentina also hopes to draw Chinese investments in its oil industry.
During nearly two hours of talks Friday, Wen signed five cooperation agreements on telecommunications, the environment, and economic and technology cooperation.
Related News in Chinese:

温家宝访问阿根廷 中国成阿第三大投资来源国