Top metals consumer China and world No. 1 copper producer Chile plan to double their bilateral trade to $60 billion by 2015, Chinese Premier Wen Jiabao said on Tuesday during an official visit to Chile.

China has made relatively few major investments in the Andean country, despite being its main trade partner and sharing a free trade agreement.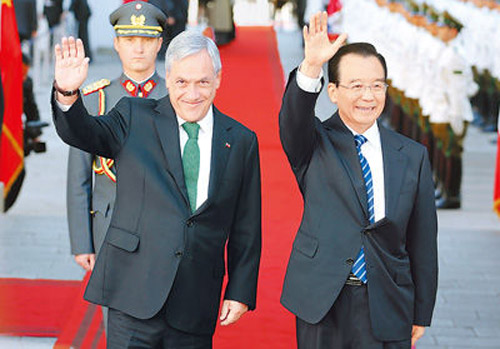 Trade between the two Pacific Rim countries is currently around $30 billion. The Asian giant's avid demand for commodities has boosted the economies of many export-dependent Latin American countries.
The leaders signed a deal to give investors security for their investments in either of the two countries, Chile's foreign minister Alfredo Moreno said. Further details of the agreement were not immediately available.
Chinese renewable energy company Sky Solar, state-backed China Development Bank and Chilean industrial group Sigdo Koppers plan to make a Chinese firm's biggest investment in the Andean country: a $900 million solar energy park, export promotion agency ProChile said on Tuesday.
In addition to producing around a third of the world's copper, Chile has a strong wine, salmon, fruits and forestry industry.
Related News in Chinese:

温家宝访问智利 2015年前中智贸易额将翻番

Chicago Tribune News
Please
contact us
in case of Copyright Infringement of the photo sourced from the internet, we will remove it within 24 hours.