Chinese President Hu Jintao met with
US
President Barack Obama on the sidelines of the G20 summit in Mexico for talks over bilateral relations and major regional of common concern.
During the meeting, the 12th between Hu and Obama, the Chinese leader put forward a four-point proposal on forging a new model of great power relations between the two countries.
The two sides should continue dialogues and enhance mutual trust, Hu said, adding that they should maintain high-level strategic communication. The two countries should also deepen cooperation in commerce, investment, law enforcement, education, technology, energy, environment and infrastructure construction.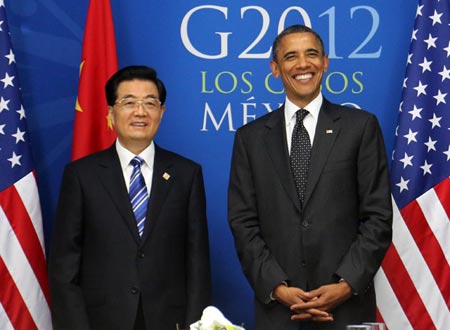 Hu Jintao and Barack Obama at the G20 sumit in Mexico on June 19.

China and the US should manage their differences and ward off interferences, Hu said, expressing the hope that the United States would adopt a positive and pragmatic China policy. He called on the US to prevent domestic politics from disturbing China-US ties, and support the peaceful development of relations across the Taiwan Strait with concrete action.

Hu said China is ready to continue frank dialogues and pragmatic cooperation with the United States and boost mutual trust so as to keep a healthy interaction in the Asia-Pacific region. China, he said, expects the Unites States to respect its interests and concerns, and is open to further communication and coordination with the United States on hot-button regional issues.

For his part, Obama agreed with Hu's outlook on the next phase of the bilateral relationship, saying that his country is willing to build upon the existing achievements and push US-Sino relations further forward.
A prosperous and stable China is in the interests of the United States and the world, just as a prosperous and growing United States benefits China and the world, he said.

Xinhua News
Please
contact us
in case of Copyright Infringement of the photo sourced from the internet, we will remove it within 24 hours.