Cameroon President Paul Biya on Monday met with visiting Chinese State Councilor Liu Yandong and held talks with her on furthering friendship between their two nations.

President Biya told Liu that the government and people of Cameroon admire China's miraculous economic achievements that also benefit the world, and the effective governing of the country with a 1.3 billion population.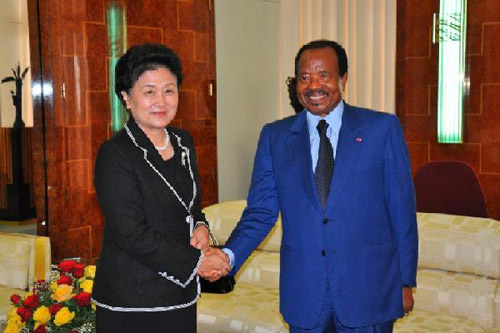 Cameroonian President Paul Biya (R) shakes hands with visiting Chinese State Councilor Liu Yandong in Yaounde, Cameroon, Dec. 5, 2011.
The relations between Cameroon and China have set a fine example in bilateral ties, the president said, noting that the two sides have kept close high-level contacts and their cooperation has seen substantial result in agriculture, house construction and infrastructure.
He said his country would continue the pragmatic cooperation with China in politics, economy, trade and culture to push the friendly relations of the two countries into a more prosperous future.

Liu Yandong, who is on an official visit to the African country, said since the establishment of diplomatic relations 40 years ago, China and Cameroon have enjoyed sincere friendship, extending mutual support, conducting cooperation and promoting common development.

The two countries have never strayed from the principle of enhancing friendship, she added.

Liu said Cameroon's political stability, economic growth and improvement of people's life have made contributions to the regional peace, stability and development. China is happy to see the achievements by Cameroon in various areas and would like to work together with Cameroon to further deepen political trust, extend economic cooperation and increase people's contacts and cultural exchanges for a lasting friendship between the two nations.

Liu also gave positive appraisals to the development of the China-Africa traditional relations and noted that the cooperation between the two sides has been strengthened and the importance has been highlighted in concertedly deal with challenges in the current international system.

She said China would like to work together with African nations including Cameroon to implement the agreement reached at the 4th ministerial conference of the China-Africa Cooperation Forum to promote the Sino-African new strategic partnership relations.


Xinhua News
Please
contact us
in case of Copyright Infringement of the photo sourced from the internet, we will remove it within 24 hours.