Italian businesses are fast gearing up to grab a slice of the opportunities from the huge investment surge by Chinese companies in Europe.
Much of the optimism in Italy, mired as it is with its own debt problems, stems from the fact that Sino-Italian trade has been galloping at a steady pace in recent times. Italian trade officials are leaving no stone unturned to attract Chinese investment.
Bilateral trade between China and Italy hit $45.1 billion (31.3 billion euros) last year. The two nations have also committed to boost bilateral trade to at least $80 billion by 2015.
There has also been a sea change in the investment patterns. Most of Italy's investment in China has now shifted from manufacturing to energy saving and environmental protection sectors, whereas Chinese investors have immense business opportunities in crisis-hit Italy.
Giancarlo Lanna, president and chief executive of SIMEST, a financial institution that supports Italian businesses abroad, feels that there are immense opportunities for both nations to further cement their trade ties.
"In the last two years, we have strengthened our efforts to attract more investment from China. We hope that more and more Chinese companies will invest in Italy and capitalize on the strengths of both sides," he says.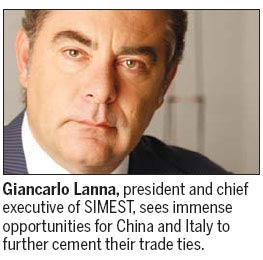 Lanna's comments come close on the heels of China coming out with a slew of policies that are aimed at encouraging foreign investment, increasing imports and expanding the domestic market.
Under Lanna's stewardship, SIMEST has been deeply involved with several Chinese joint ventures. The agency has recently been involved with the start-up project investment for the Dongjiang Free Trade Port Zone of the Tianjin municipality.
Under the project, Italian investors have access to an office site spread over 100,000 square meters and benefited from a range of favorable policies on cargo storage, import duties and customs clearance.
SIMEST will also join hands with the Dongjiang Free Trade Port Zone to promote investment opportunities in Italy, he says.
The Huaze Group, a financial investment agency under the Free Trade Port Zone of Tianjin, will help in promoting the interests of Chinese companies at Rivalta Scrivia trade terminal in Italy.
More than 100 Chinese companies have established businesses in Italy. These include China Ocean Shipping (Group) Co (COSCO), Baosteel Group Corp, Haier Group, Anhui Jianghuai Automobile Co Ltd and Chongqing Chang'an Auto Co Ltd.
COSCO has already set up an investment project with the port of Naples and is also investing in a new container pier.
"In recent years, there have been some new trends for the development of Chinese companies in Italy," Lanna says.
He says Chinese companies have started doing mergers and acquisitions in Italy.
Moreover, some Chinese companies have also begun to establish research and development (R&D) centers in Italy, and improved the quality and performance of products by utilizing local designs and R&D capabilities.
"For better development in Italy, Chinese companies, of course, need to overcome the huge differences between the East and the West in terms of history, culture, ideas and even policies and laws, so as to better merge in the local society," Lanna says.
Cesare Romiti, president of the Italy-China Foundation, says the most significant opportunities for Italian companies in China lie in the sectors of food and beverages; luxury, fashion and design; healthcare and pharmaceuticals, automotive and services.
But he also says that are enough inbound opportunities for Italians as China is determined to boost its imports and encourage overseas investment. His foundation is offering help to attract Chinese capital, tourists and students.
Romiti says both sides should work together to unlock more cooperation potentials. Urging China to remove some formal and informal barriers for trade and investment, Romiti says Italy should carry out more reforms to make its economy more attractive to foreign investors.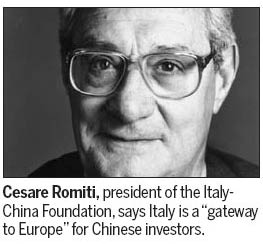 For would-be Chinese investors, Romiti says Italy is a "gateway to Europe", not only for its market, but also for its manufacturing know-how and strong brands.
He says the Italian government has recently eased visa controls for Chinese business people, tourists and students.
A new flight has also been started between Beijing and Rome by Italian Airlines. According to Romiti, "smooth movement of people is a prerequisite for closer economic ties."
Romiti says Italy is the seventh largest economy in the world, but is ranked 22nd in terms of exports to China and the 11th largest importer from China.
This means that there is immense potential to further improve trade ties.
"Personally, I have been impressed by the number of success stories of Italian companies in China and by the rapid rise of Chinese investments in Italy," Romiti says.
Francesco Gori, chief executive of Pirelli Tyre, says his company has already made rapid progress in the Chinese market with plans to double production capacity by 2013 and also make premium car and truck tires, as well as steel cord.
By next year the range will be expanded further to include premium motorcycle tires, he says.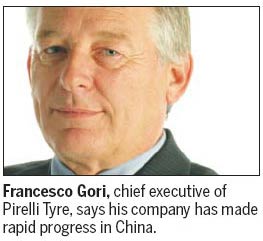 Gori says his plant in China began operations less than six years ago and now accounts for about 7 percent of the group's total capacity, with 50 percent of the products being exported.
"By investing in Italy, Chinese companies can gain insight into our culture, people, technologies, and creativity."
He says China is such a big market and the growing wealth and discernment of the Chinese people has created many opportunities for European manufacturers of high quality goods.
"In our case, this translated into a decision to invest, along with a local partner, in the construction of our plant at Yanzhou in Shandong province," Gori says.
"A closer relationship with China, the second-largest and most dynamic economy in the world is crucial for the future economic growth of Italy," Romiti says.