Ghana and China signed project loans and another deal together totaling $15 billion, the latest in a string of Chinese investments on the continent.

The loans, coinciding with a six-day Beijing visit by the West African nation's president, John Atta Mills, highlight China's strong interest in resource-rich African countries such as Ghana. Ghana is preparing to tap massive oil fields that are expected to turn it into one of Africa's biggest energy producers.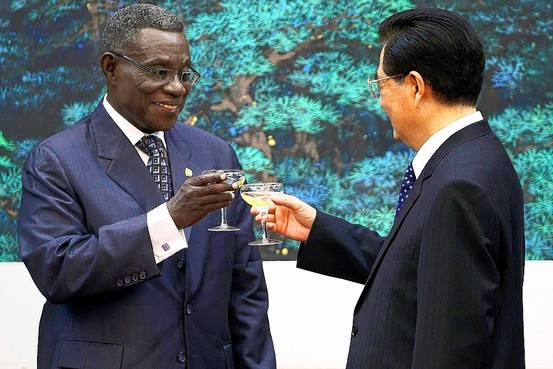 Ghana President Mills, left, and China's Hu Jintao in Beijing Monday.

On Wednesday, the China Export Import Bank and the government of Ghana signed a $10.4 billion concessionary-loan agreement for various infrastructure projects, payable over 20 years, the government of Ghana said on its website. The loan is subject to approval by the Ghanaian parliament and cabinet.

A separate loan of $3 billion, from the China Development Bank, is slated for Ghana's burgeoning oil-and-gas sector. Ghana is set to begin oil production later this year and will soon pump 120,000 barrels a day, according to government and oil-company estimates. The China Development Bank also guaranteed more than $400 million for water and what it called e-governance projects in Ghana, according to the government website.

Separately, Ghana signed an agreement valued at $1.2 billion with Chinese company Bosai Minerals Group to build a bauxite and aluminum refinery in Ghana over four years, according to several Ghanaian newspapers and the state-run Xinhua news agency. Bosai Minerals would purchase 80% of the shares in Ghana Bauxite Co., according to the newspapers.

Ghana Minister or Energy Joe Oteng-Adjei said details of the various projects will be disclosed after the president's delegation returns to Ghana.

Originally geared mainly toward supporting China's own development, the country's China Development Bank and Exim Bank have in recent years become central elements in Beijing's efforts to project its power overseas and to secure access to natural resources, especially in developing markets.

Africa looms large in that strategy. One of Exim Bank's three overseas branches is in Africa—in Johannesburg. The others are in Paris and St. Petersburg. China Development Bank in 2007 set up the China-Africa Development Fund with an initial $1 billion to finance trade and investment in Africa. The bank opened its first branch in Africa in November, in Cairo.

Latin America also has been a focus. Last month, China Development Bank agreed to lend Ecuador's government $1 billion to help improve its infrastructure. In July, it signed a deal to help fund improvements in Argentina's railway system.

In April, as part of a deal reached between China's government and the Venezuelan administration of President Hugo Chávez, China Development Bank agreed to lend the South American country $20 billion.

With various concessionary loans and investments, the Chinese government also has positioned itself as one of Africa's major foreign partners. Last year, China signed a $6 billion loan agreement with mineral-rich Congo for infrastructure projects.

The financing and infrastructure projects have, in turn, helped pave the way for Chinese companies in Africa.
Last year, state-run oil company China Petroleum & Chemical Corp., known as Sinopec, bought oil-exploration company Addax Petroleum, which has major assets in West Africa, for $7.2 billion. And this year, state-run China National Offshore Oil Corp., or CNOOC, put itself in direct competition with U.S. oil giant Exxon Mobil Corp. when it signed an agreement with Ghana's state oil company, GNPC, to buy a stake in the Jubilee oil field, one of the biggest recent oil discoveries off Ghana's coast and one in which Exxon had been trying to purchase a stake.

Ghana's deputy minister of finance and economic planning, Seth Tekpeh, confirmed the $10.4 billion infrastructure loan. "The repayment for these loans would not come from the budget but through exports," Mr. Tekpeh said in a telephone interview. Mr. Tekpeh didn't elaborate on which exports would pay for the loans.

Some see a signal for the West in such agreements. "China doesn't just give away money. What they're really saying is we'll get a Chinese company to come in and do a project for some amount," said Yofi Grant, an executive director of Data Bank, an investment bank in Ghana. "But it's a good signal to the U.S. and the U.K. China gives state support for these kinds of projects," he said.


Wall Street Journal

Please

contact us

in case of Copyright Infringement of the photo sourced from the internet, we will remove it within 24 hours.