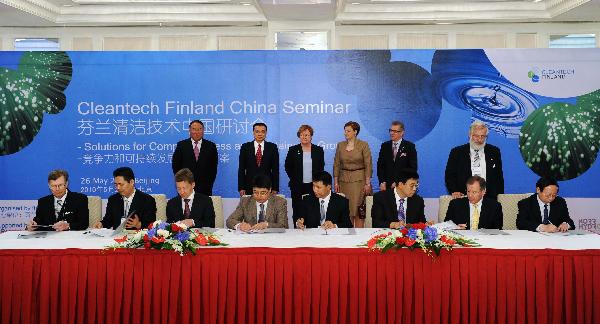 Chinese Vice Premier Likeqiang and visiting Finnish President Tarja Halonen attend a signing ceremony after the opening ceremony of Cleantech Finland China Seminar

Companies from China and Finland signed twelve deals on clean technology with a total contract value of around 250 million U.S. dollars in Beijing on Wednesday.

"The immediate value of all the contracts and agreements is about 200 million euros (about 245.76 million U.S. dollars), and their potential exceeds 1.5 billion euros (about 1.84 billion dollars)," Leif Fagernas, director general of the Confederation of Finnish Industries, said at the Cleantech Finland China Seminar in Beijing.

Visiting Finnish President Tarja Halonen and Chinese Vice Premier Li Keqiang attended the seminar, and pledged to promote clean tech cooperation between the two countries.

"As China is experiencing rapid industrialization and urbanization, we have to build a resource-saving and environmentally friendly society as soon as possible," Li said.

He added that the promotion of clean development would help transform China's pattern of economic development.

Xinhua
Please
contact us
in case of Copyright Infringement of the photo sourced from the internet, we will remove it within 24 hours.