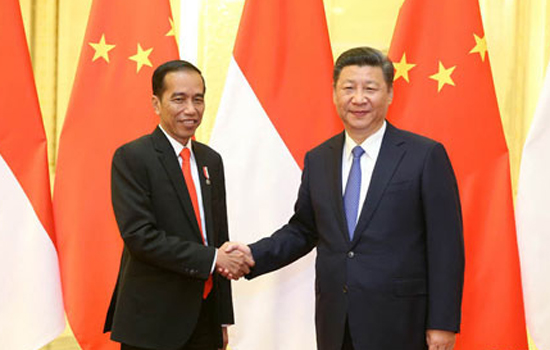 On May 14, 2017, President Xi Jinping met at the Great Hall of the People with President Joko Widodo of Indonesia who was in China for the Belt and Road Forum for International Cooperation.
Xi Jinping pointed out that I proposed the initiative of jointly building the 21st Century Maritime Silk Road for the first time in October 2013. After taking office, Mr. President proposed the idea of building Indonesia into a "Global Maritime Fulcrum". In the recent years, China and Indonesia have made fruitful achievements, enriched richer connotations to bilateral relations and opened up a broader cooperation space by actively connecting the above initiative and idea as well as comprehensively deepening cooperation.
Xi Jinping stressed that in order to continuously elevate China-Indonesia comprehensive strategic partnership to new stages, the two countries should maintain high-level exchanges and make full use of the high-level exchange mechanisms, and deepen political mutual trust. Sticking to the principle of equal treatment and mutual benefit, China is willing to promote an all-round cooperation between both countries within the framework of the "Belt and Road" construction. Both sides should deepen and consolidate practical cooperation, push forward cooperation in infrastructure construction and propel a balanced growth of bilateral trade, push forward cooperation in fields such as investment, finance, mining, agriculture, nuclear energy, counter-terrorism, drug control, cyber security and combating transnational crimes, actively conduct maritime dialogue and cooperation, promote exchanges in tourism, education and cultural exchanges, and strengthen multilateral communication and coordination. China is willing to support the construction of the Association of Southeast Asian Nations (ASEAN) community and work with the ASEAN countries to jointly promote China-ASEAN relations and cooperation in East Asia for greater development.
Joko Widodo said that Indonesia highly appreciates the "Belt and Road" initiative and this forum held by China, and he believes that the "Belt and Road" construction will bring more opportunities for China-Indonesia economic cooperation. Indonesia is willing to deepen the cooperation within the framework of the "Belt and Road", improve the level of economic and trade investment, discuss on the construction of corridor for economic connectivity, especially on cooperation of the major projects in such fields as industry, agriculture, electric power, ports, and tourism, and deepen people-to-people and cultural exchanges. Indonesia is willing to intensify communication and coordination with China on international and regional affairs and support the stable development of China-ASEAN relations.
After the meeting, the two heads of state jointly witnessed the signing of cooperation documents covering the action plan of the implementation of the comprehensive strategic partnership, economic and technical cooperation, and infrastructure construction.